Welcome to Security in Print
Your one-stop shop for personalised holograms, custom hologram labels, security hologram stickers, tamper-evident self-adhesive hologram stickers, holographic security hot foil, and other holographic security products.
Custom Personalised Holograms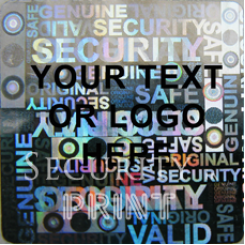 If you require a message printed on a hologram but don't have the 20,000+ holograms required for a bespoke solution then this is ideal for you. You can personalise these self-adhesive holograms with a message, a web address (as long as it fits in the space), your logo, or even serial numbers and the minimum order is only 8 sheets of holograms. It is great for applying to id cards, special offer vouchers, etc and it gives that extra security.
If you wish to have your logo printed you will need to send it to us via email, and please bear in mind that whilst we can overprint in colour the best results are when printing black.
And remember, the more sheets you buy the more you'll save!
Showing 1 to 8 of 8 (1 Pages)
Your one stop shop for holographic security products