Welcome to Security in Print
Your one-stop shop for personalised holograms, custom hologram labels, security hologram stickers, tamper-evident self-adhesive hologram stickers, holographic security hot foil, and other holographic security products.
Holographic Tape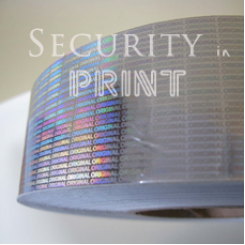 This holographic security tape is ideal for sealing openings of boxes or any other packaging operation where it is imperative that liability is ascertained when a product is tampered with or when the packaging is opened. This is one continuous hologram strip than can be unrolled and cut to size, and it is applied by removing the backing tape. Anyone wanting to prise it from the product it's been applied to will leave a message behind that reads "VOID".
It provides a more flexible solution than individual stickers as well as being more cost-effective.
Due to the very nature of these security products, they are very difficult to photograph accurately and they can appear as a flat silver foil, but once in your hands you will see how they create a fascinating spectrum of colour.
This tape is sold by the metre with a minimum order of 5 metres
And remember, the more you buy the more you save.
Showing 1 to 1 of 1 (1 Pages)
Your one stop shop for holographic security products