Welcome to Security in Print
Your one-stop shop for personalised holograms, custom hologram labels, security hologram stickers, tamper-evident self-adhesive hologram stickers, holographic security hot foil, and other holographic security products.
Hologram Stickers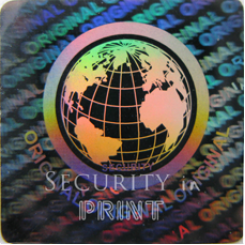 If you have a low volume requirement for a security then this is ideal for you. Whether you want to apply a hologram to an id card for your workforce, running a promotion and want to make sure your vouchers are not copied, or even an ebay seller who wants to make sure the goods that people may wish to return are those you sold and not a fake, we have a solution for you.
Applying a ready-made, self-adhesive hologram sticker is a very effective deterrent against fraud and will show your customers you are serious about ensuring your customers receive a quality product.
With so many hologram designs to choose from you are bound to find something that fits your needs and remember, the more you buy the less you pay!
Refine Search
Your one stop shop for holographic security products